In English
Our website does not currently have an English version, but we would be glad to help you to place an order or answer your questions in english by email info@epipla1.gr or phone +30 698 193 4030.
Delivery
Every furniture has it's own specified delivery term which is written in each furniture description. If possible the following term is shortened. Furniture usually are delivered at the agreed convenient time.
All orders from 200€ in mainland Greece are delivered for free by our own dedicated transport. Orders under 200€ are delivered in mainland Greece for a 19€ charge, in Athens and Thessaloniki for a 9€ charge.

For an additional charge of 15€, our driver can carry the furniture to your apartment.

Furniture is usually delivered in a flat package and includes assembly instructions.
One day before the delivery we will call to inform and arrange a convenient delivery time.
Payment
Payment can be done using the following methods:
Cash on delivery;
Credit or debit card upon delivery;

Credit card installments

;
Bank transfer;
No prepayment! You can pay on the time of delivery. If your order is sent to foreign country by 3rd party transport company, payment is required to be done before the order is dispatched from our warehouse.
Cash on delivery. For your convenience, we offer you the opportunity to pay for the products with cash on delivery. This way you can pay in cash on delivery and not when you make an order. On delivery, the driver will give you a shipment slip and a receipt or invoice for your order. The delivery does not apply to delivery to the islands due to the fact that transport companies are involved. (Excludes Lefkada and Evia due to road access)
Credit or debit card upon delivery. There is always the opportunity to pay by credit or debit card at delivery. The driver will deliver your POS, you can easily scan your card and make the transaction on the spot. This payment method doesn not apply to delivery to the islands due to the fact that 3rd party transport companies are involved. (Excludes Lefkada and Evia due to road access)
Credit card installments. Pay with a visa or mastercard upon receipt:
Installements up to 3 months with minimum order amount of 500 EUR. This payment method doesn not apply to delivery to the islands due to the fact that 3rd party transport companies are involved. (Excludes Lefkada and Evia due to road access) 
Bank transfer. Once you've selected this form of payment, you'll be able to transfer the money to our bank account in the usual way up to the day of delivery (unless agreed otherwise). Mark the order number in the reference field during the transaction (for example # 123456)
Receiver: Furniture1 Hellas IKE

Account number: 0026.0057.53.0201134247

IBAN: GR 4702600570000530201134247

Reference: Order Number

 

(e.g., # 123456)
Paying from abroad? You could require additional information:
Bank: EUROBANK ERGASIAS SA

Bank address: 80, 25 March Ave., Petroupoli, PO 132 31

SWIFT / BIC: ERBKGRA

 
Returns and refunds
All of our products include warranties. If you have noticed a factory defect or transporting damages we will resolve the issue while ordering warranty pieces or replacing a product with a new one or making a refund delivering them to you. If you have a possibility – email us pictures of the defects or damages – that way it is more likely that we will solve the situation quicker. All the information about the warranty service is provided over the phone +30 698 193 4030 or via email at info@epipla1.gr.
Epipla1.gr 365 days money return guarantee
Unlike many other online and conventional stores, if you are not 100% satisfied with the quality of your product, you can return it within 365 calendar days (yes, a whole year!) And get all your money back. We will get personally to get the furniture and all the return costs will be covered by us. The following conditions must be met when products are returned:
When returning the product, this must be in its original packaging (you can cut off the packaging tape that keeps the packs closed for product inspection).

The

 

assembled

 

good quality products can not be returned.

The product must not have been damaged by the customer.

In cases where the reason for returning the product is poor quality, we take responsibility for changing the product to a good quality product or returning the money paid.

The product must be tradable (labels, safety packages must not be damaged) (this paragraph does not apply if the product is returned due to poor construction).

The returned product must have all units and packages as received.

Returned goods will be received from the nearest space that our trucks can reach.

We are obliged to make the return of the goods within 20 working days, unless otherwise settled.

 

Money can be returned via bank transfer to the customer's account.

 

Money is reimbursed only for the product and not for the paid services.
24 month quality guarantee
Each product sold by Epipla1.gr has its basic properties listed in the description. All products sold by Epipla1.gr are warranted by the manufacturer, the terms and conditions of which you can read in the product description and warranty sheets. After purchasing one of these products, make a careful inspection before assembling. Warranty Terms:
During the assembly process, the customer must follow the assembly instructions.

The product was used for the intended purpose, working in a shift and maintained in accordance with the rules of supervision.

The warranty applies to defects in product quality due to the manufacturer's fault and the seller's carriage.

 

Buyers lose their warranty rights in these cases:

The buyer did not comply with the rules for the maintenance and supervision of furniture.

The products have been damaged by the buyer.

Furniture has not been subjected to force majeure.
Regarding the displayed defects in the use of furniture, please let us know by using the following contacts provided on Epipla1.gr. During the warranty period, all mismatches of quality and quantity are resolved by Epipla1.gr. Corrections or replacements in products or pieces of appropriate quality are covered at the expense of the company. Epipla1.gr is required to resolve the warranty in 20-45 business days from the date of the warranty. In the case, after you buy one of these products and notice that it is of poor quality, you have the right to return the product to us within 24 months from the date of delivery. The products are also received free of charge with our carrier. In this case, poor product quality changes to a good quality or a full refund is issued for the purchase. During the warranty (24 months), after observing the hidden construction defects, please take pictures and send them to info@epipla1.gr . The manufacturer will decide whether the guarantee will be applied - that is, the defect occurred during construction or for other reasons. You will be informed about the manufacturer's decision through the communication lines we provide. Please note that:
The manufacturer's warranty does not apply to physically damaged pieces of furniture or fabrics.

If the reason for returning furniture is bad quality, we have to replace poor quality furniture to a satisfactory quality or return the money you paid.
Contacts
Do you have questions? Want to place an order?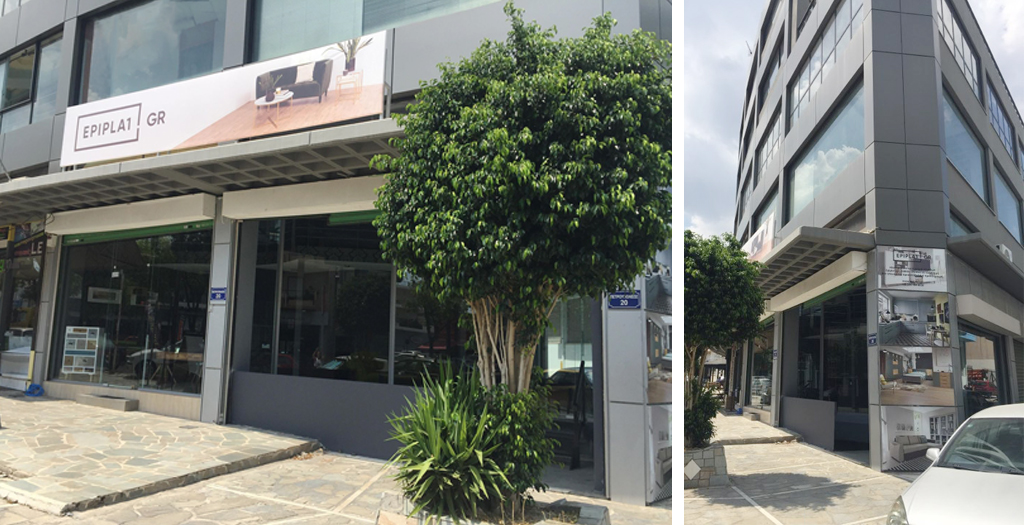 You would like to return your furniture? Noticed any manufacturing defects or damage? Don't worry — we will resolve any problems together! Email us info@epipla1.gr.

If after unpacking your furniture you encountered manufacturing defects or transport damages, don't worry. If you have a chance, take pictures of the defects and e-mail them to us. It is more likely that we will be able to resolve the issue sooner this way :)

We are trying to make the process of buying furniture smoother. We want to live up to our clients' expectations. That's why your opinion matters to us. If you have any remarks, feedback, complaints or suggestions, please write to us at info@epipla1.gr. This is very important to us!
You want to pay for your order?

Use the following details for the bank transfer:

Receiver: Furniture1 Hellas IKE

Account number: 0026.0057.53.0201134247

IBAN: GR 4702600570000530201134247

Reference: Order Number (e.g., # 123456)


Paying from abroad? You could require additional information:


 

Bank: EUROBANK ERGASIAS SA

Bank address: 80, 25 March Ave., Petroupoli, PO 132 31

Company details:

Furniture1 Hellas IKE
Viomichaniki Periochi 193 00, Greece


Reference number: 146734201000




Tax ID Number: 801003026




info@epipla1.gr




+30 698 193 4030